Marketing Automation That Will Skyrocket Your Business and Increase ROI
August 9, 2021
2021-08-12 17:45
Marketing Automation That Will Skyrocket Your Business and Increase ROI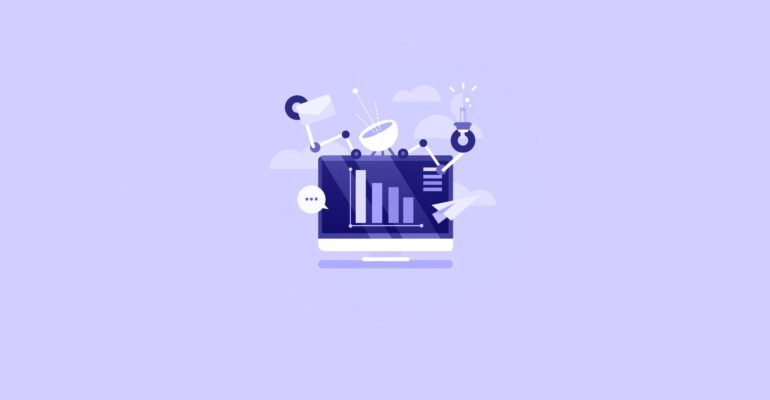 Marketing Automation That Will Skyrocket Your Business and Increase ROI
Introduction:
Marketing automation is the use of software to automate marketing processes such as customer segmentation, customer data integration, and campaign management. The use of marketing automation makes processes that would have otherwise been performed manually much more efficient, and makes new processes possible. Marketing automation is an integral component of customer relationship management.
At its best, marketing automation is software and tactics that allow companies to buy and sell like Amazon – that is, to nurture prospects with highly personalized, useful content that helps convert prospects to customers and turn customers into delighted customers. This type of marketing automation typically generates significant new revenue for companies, and provides an excellent return on the investment required.
Marketing automation will empower your organization to do the following:
Add dynamic content based on an individual's specific user profile. For instance, you can send targeted offers based on website patterns.
Categorize customers and prospects by common behaviors, interests, and demographic details. These will be dimensions for segmenting your customers.
Develop optimal marketing patterns. Marketing automation can help your company test different variables like email send times, subject headings, and ideas for personalization.
Integrate marketing channels to deliver a comprehensive, cross-platform user experience. Make sure that every touch point is carefully planned for optimal conversion optimization.
Marketing automation starts with understanding the difference between 'strategies' and 'tactics.'
Strategies are creative—yet structured—marketing frameworks. These programs start with the big picture. Marketers will then reverse engineer solutions based on goals.
Tactics involve the implementation of specific marketing techniques—for instance, whether or not you want your email subject headings to contain action verbs.
"To succeed with marketing automation, you need a healthy mix of Strategy and Tactics."
The essence of marketing automation is multi-fold and ever expanding, but here are its essential elements:
Create and distribute content across multiple channels.
Capture and synthesize a broad range of digital marketing interactions of prospects and customers.
Devise automated rules to quantitatively assess and score leads.
Automatically distribute the most promising leads to salespeople so that they can spend time selling to receptive prospects versus prospecting.
Construct automated workflows to nurture prospects with relevant content until such time as they either disengage or become qualified.
Additional Features:
Marketing automation providers are continually adding to their mix of features. The following features are found in a growing number of platforms.
Social Media Integration:
Post messages to social media sites from within the marketing automation platform and provide streamlined ways to share content to social sites. Respond to and engage with leads and prospects who interact with you via social networks and posts.
Data Integration:
Identify contacts at prospect firms who have visited your website and landing pages, and import directly into your marketing platform.
Google Ad-words and SEO Integration:
View Google Ad-words campaigns and search engine optimization efforts from within the marketing automation platform, and tie revenue generation to inbound marketing efforts.
4 Quick Benefits of Marketing Automation:
Decreased Time Spent on Internet Marketing: Software that automates tasks enables you to save time, which you can allocate elsewhere, to areas that you can't automate. More efficient operations equal increased productivity!
Improved ROI: In addition to saving time, marketing automation features an impressive ROI, making it an investment that benefits your company in the short- and long-term. That kind of Roi can also impact your future growth, allowing you to grow your company and team.
Personalized Connection with Site Visitors: Providing content tailored to users presents offers and calls-to-action that match their needs. Giving users useful information makes it easier for them to get what they need, creating a positive experience that will bring them back for more.
Makes the Most of your leads: Marketing automation increases the chance that high-value leads will convert, as you're providing them relevant content. With relevant content, your team can increase your conversion rates and revenue.
Typical marketing Automation User Types:
CMO, Marketing Manager, Marketing Director: Decision-makers in the marketing team use marketing automation software primarily as a source of data for understanding how the team's initiatives make an impact on overall revenue and where strategy changes may be needed for continued success.
Content Manager, Specialist: Content creators and managers use marketing automation systems as a means of publishing and promoting content to the right customers and prospects at the right time.
Social Media Manager or Specialist: Social media managers and specialists use marketing automation tools to schedule posts to social media channels and monitor those channels for mentions and direct messages.
Email Marketer: Email marketers use marketing automation software to set up, test, run, and automate email marketing campaigns to targeted customer lists.
Lead Generation or Demand Generation Manager or Specialist: Lead and demand generation professionals use marketing automation to run email, PPC, and social campaigns as well as more traditional media campaigns that reach broad or targeted audiences. They can also refine the marketing funnel for those leads through detailed data and analytics.
Attraction & Engagement:
Traffic acquisition is only part of the marketing equation. Organizations need qualified, targeted traffic to be successful in their marketing. We want to attract audiences who will ultimately become happy, long-term customers (who will refer other customers).
Automated Social Media Marketing:
Sharing content to social media regularly and with the most impact is a full-time job, especially if you do it right. But automated social media marketing tools take a lot of the pressure off of social media managers by scheduling posts out in advance, providing a way for teams to reschedule evergreen content to attract new readers, and a platform for understanding social media analytics like mentions and replies.
Automated social media marketing tools can either be included in a larger marketing automation platform or are sold as best-of-breed tools.
The following Marketing Activities can help Attract Audiences to your Website:
Blogging: Create educational content that answers your audience's questions
Social Media: Create profiles and human presences where your target audiences are likely to engage.
Keywords: Be accessible to your audiences in the exact moment that they're searching for information.
Pages: Optimize your website to appeal to and speak with your ideal buyers. Create a flow between web pages to answer your target audience's core questions.
Marketing automation can help connect and simplify these seemingly disparate actions. Instead of reaching customers manually, you can use software to establish these 1:1 bonds.
Happy Marketing!
Conclusion:
We're in an age where everything in marketing, and frankly our lives in general, is driven by technology. Small businesses and marketers who are trying to scale don't have the time to sit down and send out one-off messages anymore. They want and need tools that can run and service their customers even when they are away from a computer. Marketing automation helps make that possible.
Marketing automation lets you create a more systematic approach to marketing that you can track and monitor. When you use an all-in-one tool, such as Absolin, you get full visibility into your efforts as a whole and, even more, how your efforts are paying off. It allows you to easily attract new users, convert them into leads, and nurture them through the sales funnel. There aren't any surprises along the way or contacts being lost without you realizing it.
"Assess the requirements, Explore the opportunities and Implement the changes and Succeed – Sky is the limit".
If, you are a newbie and have some questions- ask me in the comments…
If, you're an expert- share your secrets with me in the comments…
THANK YOU!!!