What is the difference b/w SAP & ERP?
December 6, 2021
2021-12-06 18:46
What is the difference b/w SAP & ERP?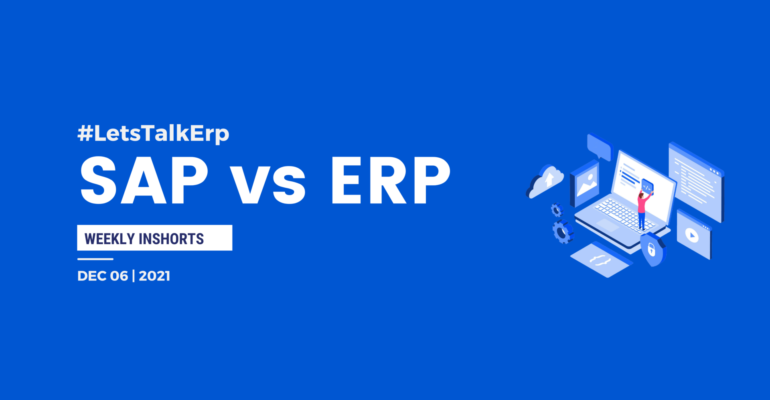 What is the difference b/w SAP & ERP?
Managing operations gets increasingly difficult as a company grows. You must issue salaries, handle benefits, pay bills, and keep track of your finances while still attempting to preserve customer connections and acquire new clients. You can keep up with it all with software, which can even automate many everyday duties that were previously performed by personnel. At the heart of this automation are enterprise resource planning tools. The phrases SAP and ERP are occasionally used interchangeably. SAP is a software firm, and ERP, or enterprise resource planning, is one of the numerous services it offers. Although SAP ERP technologies are among the best in the market, there are a slew of other prominent contenders.
What is ERP?
Every firm, at some point, will require a management system to expedite the flow of information and manage all resources inside the company in order to optimise overall business operations. The goal is to build an integrated application system to better manage business operations and automate most technological, service, and human resource tasks. The goal is to boost productivity by automating company processes, which would save money on administrative costs, IT expenses, and delivery times that would otherwise be avoided if operations were handled manually. In order to boost efficiency and improve performance, firms must deploy an ERP (Enterprise Resource Planning) system that leverages both internal and external information important to the organisation. SAP is the world's largest ERP provider and the industry leader in business process systems including ERP, CRM, and SCM, among others.
What is SAP?
SAP stands for System Application and Product in Data Processing. They are known as software developers for managing corporate operations and customer relationships. SAP is a software company that helps companies streamline their distribution and logistics processes. These procedures are grouped together to form a module that interacts with many areas of the company.
Following are some key features of SAP :
These are the tech-giants which make enterprise resource planning (ERP) software.
These provide organizations to support logistics, financial, and distribution.
It is used to integrate core business processes which are required for various functions concerning the SAP module.
Makes a platform to consolidate every function to process it with full performance.
ERP and SAP Fundamentals
ERP software is a collection of business process applications that enables companies to integrate key activities and information flow into a single system to better manage business operations and save money on administrative expenditures that would otherwise be paid by managing manual procedures. SAP is a global software corporation that specialises in business management software, such as the ERP system.
Application of ERP and SAP
SAP is a Tier 1 ERP software product, whereas ERP is a superset of SAP. ERP is more of a framework for connecting apps in a single architecture based on functions using a set of standards. ERP aids in the management and consolidation of an organization's overall performance across numerous areas. SAP is only an ERP system.
Modules of ERP and SAP
SAP and ERP are frequently used in tandem since SAP is one of the world's major ERP system suppliers. The basic characteristic of ERP is that all applications inside a company share the same database of information and processes, removing the need for data to be gathered from numerous systems and making business operations more easy and efficient. SAP offers modules that oversee a variety of functions inside a company. Each module is associated with a certain function.
ERP vs. SAP: Comparison Chart
Need an SAP like solution for small and medium scale businesses? Check the highly flexible ERP system at Absolin
ERP & SAP Inshort:
ERP stands for Enterprise Resource Planning, and it is a software suite of business process applications developed by SAP SE, a worldwide software company. It integrates the essential tasks of a business inside an organisation. The goal is to give organisations a platform that allows them to keep a single database for data relevant to a range of company tasks and make it easily accessible. The goal of an automated business management tool is to save firms money by reducing inefficient and costly activities. SAP is the largest ERP provider in the world and a market leader in business software. SAP is one of the world's major vendors of ERP systems, however ERP is more like a methodology with a specific set of standards that consolidates multiple applications of a business in a single domain.