Are ERP and CRM the same?
January 31, 2022
2022-01-31 15:01
Are ERP and CRM the same?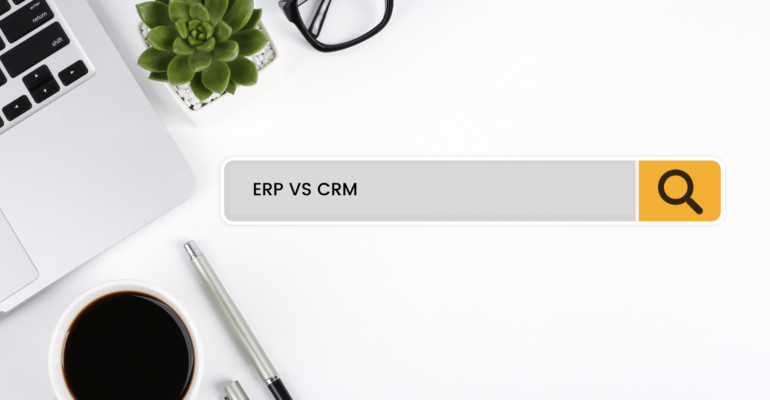 Are ERP and CRM the same?
Enterprise resource planning (ERP) and customer relationship management (CRM) are the two main software solutions that businesses use to automate fundamental business procedures (CRM). CRM helps organizations manage how customers interact with their enterprises, whereas ERP helps companies run successful operations by integrating their financial and operational systems into a single database.
Both are important data storage locations. Both cover a wide range of areas, and while they are occasionally designed on the same platform, the software is frequently purchased independently and connected as needed.
This article will help you understand the key differences between CRM and ERP, as well as if your company requires both.
What is CRM?
CRM software, in a nutshell, manages all of a customer's interactions with a company. CRM elements were originally designed for sales departments and were referred to as "sales force automation" at the time (SFA). Once the telephone became merely another channel for customer care, various technologies were quickly developed to manage customer service interactions and marketing, particularly in the call center — or, as it became known, the contact center.
Software companies began to merge all of these disciplines under one banner, known as customer relationship management, through acquisition and development. Some CRM systems offer sales performance monitoring and sales incentive compensation, however, due to their complexity, they're generally supplied separately.
CRM Advantages
CRM's fundamental promise is to provide a central repository for all client data and to track all customer interactions. Businesses may make better-informed judgments based on this data and analytics about which customers to pursue additional income, how sales teams are performing, how to service clients effectively and appropriately, and more.
Sales professionals, for example, can use a centralized CRM system to see if clients they're visiting have outstanding customer support tickets and respond accordingly. Client service, on the other hand, can rapidly determine whether a caller is a high-value customer or a potential high-value customer and direct them to the appropriate service tier.
What is ERP, and how does it work?
Material requirements planning (MRP), which was a technique for manufacturers to understand and manage all of the resources needed to run a successful business, evolved into enterprise resource planning (ERP). ERP acts as a central database for all aspects of a company. Finances, comprising the general ledger (GL), accounts payable, accounts receivable, payroll, and financial reporting, are at the heart of this.
Inventory management, order management, supply chain management, and data relating to service companies are all covered by ERP. Procurement, production, distribution, and fulfillment are all covered by ERP. Human Resources Management Systems (HRMS), CRM, and E-commerce are all included in some ERP systems.
ERP Advantages
The advantages of an ERP system originate from the fact that all financial and operational data is stored in a single, shared database. This has a significant impact on reporting, both monthly reports and ad hoc reports requested by management. Employees can drill deeper into reports to unearth financial insights without having to rely on IT or finance teams for research and reporting thanks to a single source of financial and operational data. This enables firms to make faster, data-driven decisions that can have a positive impact on everything from profitability to new growth prospects to overall efficiency.
Companies usually cite a speedier financial close as another advantage of switching to an ERP system. At the end of each month or quarter, finance teams typically account for all income and expenses and tabulate the results, a process known as closing the books. Using spreadsheets or basic-level accounting tools to close the books often necessitates a lot of manual labor, data entry, and contacting other departments for financial information. Companies have claimed reduced monthly closure times as a result of a centralized ERP system automating many of those procedures; this task may now take only a week to a few days.
ERP systems also allow for far tighter financial management within a company. Only employees with the right job tasks have access to critical data thanks to a centralized system and role-based permissions, which improves audit trails and lowers financial risk.
What's the Difference Between CRM and ERP Software?
While both ERP and CRM systems will grow to be used by the entire organization, the essential distinction between the two is that ERP is primarily for financial data and is used by the finance department, whereas CRM is for customer data and is utilized by the sales and customer service departments. The former is known as the back office, while the latter is known as the front office.
Some ERP systems incorporate a CRM component, while others do not; CRM software systems, on the other hand, do not. Salesforce.com, for example, is not an ERP system because it does not deal with transactional data. It has access to order history and invoicing, but that information is obtained through an ERP integration.
What are the similarities and differences between CRM and ERP?
ERP and CRM are both business software that uses a relational database to store and analyze data. Both are available as on-premises software or as software as a service (SaaS), in which the vendor hosts the software in its own data center and clients access it via the cloud.
While NetSuite and Salesforce.com, the two SaaS ERP and CRM pioneers, both started around the same time, CRM systems were faster to move to the cloud because they were easier to construct and businesses were originally hesitant to put financial data in the cloud.
Do I require CRM, ERP, or both?
Almost all expanding firms, from SMBs to enterprises, will eventually require both an ERP and a CRM system – or a single platform that can handle both. When companies using entry-level accounting tools like QuickBooks or even spreadsheets find that those systems are limiting their growth, are inefficient, or just require something more robust, they often turn to an ERP system.
Businesses that handle their customer interactions in individual sales reps' email clients, spreadsheets, or contact management systems are in the same boat. The business model will determine whether a company invests in CRM or ERP first. A firm with a small number of high-value customers and complicated financials is more likely to invest first in an ERP system, whereas a company with relatively simple financials and a big client base that requires frequent touch is more likely to do the reverse.
In the end, both methods are necessary for most businesses.
Do you need an Effective and Affordable ERP system for your company?
Contact us to know more at www.absolinsoft.com