How can ERP reduce business costs?
January 17, 2022
2022-01-17 17:04
How can ERP reduce business costs?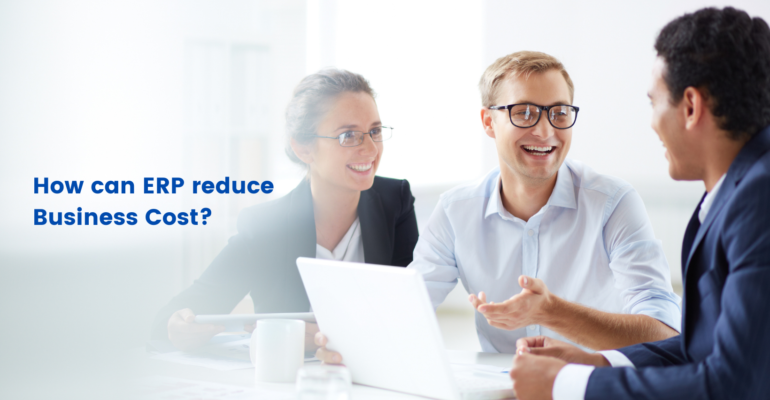 How can ERP reduce business costs?
The business of business is generating profits. Both large corporations and small, family-owned businesses are always on the lookout for ways to cut operational costs while improving efficiency. One way a business can increase its operational efficiency is by integrating its operational systems into a single program. That is ERP(Enterprise Resource Planning)
The initial costs differ.
When a company first considers implementing an integrated operational system, the initial cost of an ERP system is a concern. However, the price of an ERP system is influenced by a number of factors, and the initial cost is frequently a negotiated contract price. The following are some of the most prevalent elements that influence the price of an ERP software system:
Location of the system hosting: local servers vs cloud
Number of users, with the cost increasing with user number
Types of applications needed and number required
Level of customization requested
The initial cost of adopting an ERP system for a small organization can range from $20,000 for five or fewer users to $430,000 for more than 100 users on average. Using a cloud-based system can save you up to 50% on your IT costs, depending on your negotiation skills.
Cost Savings on a Larger Scale-
Lower costs equate to larger profits. An ERP software system provides accuracy and automation, lowering operational and administrative costs without sacrificing quality. Businesses may improve their operations management by using an ERP system, which provides users with the information they need to make faster, more educated decisions. A well-functioning ERP system can increase communication across all departments within a company. Increased worker productivity and workplace satisfaction result from easier, more effective communication. Each department will have access to a single database, reducing the costs of establishing and operating several data centers. This saves time for employees and lowers overall corporate costs.
An ERP system integrates all parts of a company's operations into a single system. You'll be able to spot unproductive areas and reduce waste as your organization's efficiency improves. It can significantly reduce control and inventory management expenditures, as well as help desk and marketing operational costs.
ERP Cost Savings in Specific Areas
Here are some specific instances where ERP can make a difference in your company.
Information flow is important.
Flow of Information
ERP allows information to flow seamlessly and efficiently across all areas of your company.
In real-time or near-real-time, you'll be able to view what's going on in your company. You'll be able to make better decisions if you have better, faster, and more accurate information.
Inventory management.
Inventory is a substantial expense for almost every company. ERP can assist you in balancing what you have on hand with the wants of your consumers. You'll notice that you don't have any additional merchandise lying about eating up space.
Maintain control over your supply chain.
ERP gives you better management of your supply chain from ordering to warehousing to inventory control and transportation.
Invoicing has been improved.
With timely invoicing, ERP can help you shorten your business cycle. The faster you send out invoices, the faster you'll be paid.
Eliminate issues as soon as possible.
A slight issue might quickly escalate into a large issue. You can identify these issues as they arise and move ahead of them with an excellent ERP system.
Improved precision.
Errors occur; it is an unavoidable reality of life. Mistakes, on the other hand, might cost you money in business. By unifying procedures and workflow across all departments, an ERP can help you reduce the number of errors in your business activities.
Implementing an ERP system across your company can enhance your bottom line by transforming the way you do business.
Do you want an effective Affordable ERP which can make a huge impact on the cost-cutting and savings of your business? Contact us at www.absolinsoft.com/erp and get a free demo today!