What is the price of an ERP System? (A free pricing and budget guide for ERP)
January 24, 2022
2022-01-24 15:56
What is the price of an ERP System? (A free pricing and budget guide for ERP)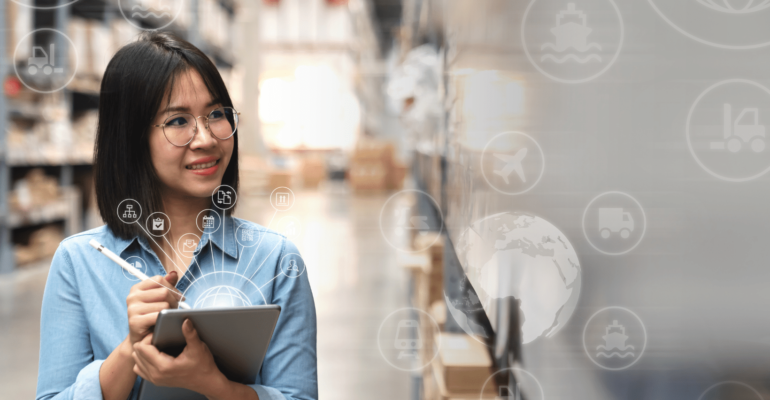 What is the price of an ERP System? (A free pricing and budget guide for ERP)
It's no surprise that asking how much ERP costs is like asking how long a piece of string is, so purchasers' heads might quickly spin. Setting a budget for a new ERP system necessitates planning and consideration, as well as a full grasp of your company's specific requirements.
But first, let's address the most frequently asked question…
How much does ERP software cost?
According to 2020 ERP research US, the average ERP project budget per user is $8,265. When you consider how many users your system may have (especially for larger firms) and other fees, an ERP deployment for a mid-sized business can cost anywhere from $150,000 to $750,000.
This is a somewhat wide benchmark, so you'll need to think about your company's individual needs in order to establish a more appropriate budget. In this in-depth post, we'll go over how to build a budget for an ERP system that's right for your company, as well as how much an ERP system costs on average.
We'll simplify the process of determining your ERP budget and calculating how much your ERP will cost your company. We'll go through what your ERP budget should include, how to make a business case for financial support, how to choose a pricing model, how to discover the correct features for the right price, how to calculate your ERP implementation cost, and how to create your budget in this tutorial.
1. Components of a budget
Even if the decision to invest in a new ERP system has already been made, you will need to set a budget and justify the charges. While not all of these factors will apply to all ERP installations, they should all be taken into account when deciding which ERP is best for your company. Here are some of the most important factors to consider while budgeting for ERP:
Fees for software licensing
Additional servers and networking hardware are required.
Conversion and transfer of data to a new ERP
If necessary, customization
Testing
Training
Post-implementation vendor/consultancy support
These are the most tangible costs to include in your budget, but you should also account for financial banana peels and eventualities. We'll talk about the hidden charges a little later.
2. Justify the cost of new ERP software
ERP software must be justified with a credible ROI estimate if it is to speed up the order to cash cycle, increase productivity, and improve business intelligence.
There are a variety of reasons why a company might wish to invest in a new ERP system. Increasing productivity, boosting business intelligence as a result of greater data capture and analysis, shortening the order to cash cycle, and lowering labor expenses are among the most prevalent. When other business units are clamoring for budget allocations, however, you must be certain that you can justify the cost not only today but also in the future.
You'll need to justify the ERP cost by determining the best pricing model for your company, as well as being specific about the features and modules you require and what financial value you expect your ERP to provide. Not all modules will be beneficial to all businesses, so choose wisely.
Management of finances
CRM
Marketing and sales
Management of Human Resources
Manufacturing/engineering/production
SCM
Inventory control is important.
Purchasing
3. Determine which pricing plan is ideal for your business.
For ERP purchases, there are two widely accepted pricing models, each with its own set of advantages and disadvantages. There are also hybrid solutions that include elements from both models, but you must first understand the key distinctions between the two to choose which will work best for your company.
The model of perpetual licensing (aka on-premise systems)
This technique allows a company to host its own software on its own servers. It's a smart choice for big firms, but it's more difficult to handle for small enterprises that don't have the infrastructure in place to support it.
For small organizations, the initial outlay for necessary hardware can be prohibitive, but for those with existing hardware capability, it can be a cost-saver. Here are the primary advantages and disadvantages:
Advantages
The cost of ownership is well-defined.
Allows for the perpetual usage of the license without the need for a subscription.
Larger firms may benefit from the decreased total cost of ownership (TCO) over time.
Disadvantages
For medium and small firms, the upfront expenses of physical infrastructure can be exorbitant.
Scaling up a business can be costly due to the requirement for additional infrastructure changes.
To decide between the two, you'll need to conduct an audit of your current infrastructure, forecast your user/transaction growth rate, and factor in other ERP implementation costs.
4. Determine which characteristics you'll require.
One of the most common hazards in any technology investment is the risk of being oversold. Many features sound interesting but you'll never use them, while others may come in handy later. Choose only the features you need to establish the proper ERP budget and invest wisely.
Accounting, financial management tools, and inventory management are frequently required, although not everyone will require a B2C commerce interface or CRM module, for example.
There may also be things that you don't require right now but may require in the near future. For example, you may not require multi-currency or multilingual capabilities in your finance module right now, but if you plan to expand into other areas soon, it may be more cost-effective to incorporate these features from the start rather than retrofit afterward.
5. Calculate installation costs
The software installation process will differ from provider to provider and enterprise to enterprise, especially if you choose an on-premise option but lack the necessary infrastructure. To properly comprehend installation costs, you must first assess your current infrastructure to see if it is capable of hosting the program, and then compute expansion costs.
Forecasting for hidden costs
Staff training, unforeseen customization, and data conversion are the most typical hidden, underestimated, or just forgotten costs of ERP adoption. Many of the 'hidden costs' can be avoided by anticipating the additional effort, training, and features that your new ERP will necessitate. However, there are frequently costs that arise later, after implementation, for which you must budget.
You may find that, despite your best efforts, you need to re-engineer some of your internal processes; this can require time and resources that you had not budgeted for. If this doesn't work, you may need to return to your vendor for additional customization that you didn't budget for.
This, in turn, may necessitate retraining, resulting in additional time and costs not anticipated. However, there are frequently hidden benefits to implementation that can offset the expenses, and having a 10% contingency budget incorporated into your ROI predictions helps protect you from any unexpected costs.
6. Compile your budget
It's time to start getting bids now that you've thought about what you want from your ERP, what you do and doesn't need, and which price model would be the best fit for your company. Vendors and consultants can provide guidance, and you can make appropriate comparisons.
Use vendor quotations to help you fine-tune your budget prediction, but keep in mind future expenses, agility, and ensuring you select features that will provide a measurable advantage to your company.
Calculating your return on investment
It is equally crucial to forecast expected profits after extensive consideration about budgets and costs. When it comes to assigning a value to your ERP deployment, it's important to remember why you started the project in the first place. Reporting on cost reductions realized as a result of your ERP may go beyond the intended goals. Here are some of the most important areas to search for a return on investment:
Labor cost savings: did you genuinely eliminate surplus resources or just give them more time to fiddle with their thumbs?
Improved cash-to-order cycle: have you realized the gains you anticipated when you originally started?
Have you noticed higher quality, lower pricing, or better inventory management as a result of supply chain management?
This article should provide you with the foundation you'll need to build a complete ERP budget for your project, as well as a method for estimating your final ERP cost.
Do you need an effective ERP for your business? Go to www.absolinsoft.com/erp and get a free demo of our most flexible and affordable ERP System.